3D METAL ADDITIVE MANUFACTURING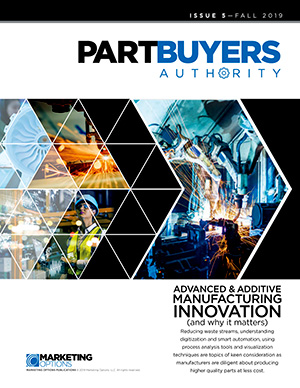 CHRIS BECK Manager of Operations, Co-Owner INNOVATIVE 3D MANUFACTURING
Published Sept 2019, Part Buyers Authority
Reprinted with permission from Part Buyers Authority
There are some truly amazing projects happening in the metal Additive Manufacturing (AM) space these days. 3D metal printing is serving a wide variety of critical industries including: aerospace, medical, heavy duty diesel, automotive, oil and gas and US Government/DOD. Our 3D printing focus is on Direct Metal Laser Sintering (DMLS) also known as Selective Laser Melting (SLM) and sometimes referred to as Powder Bed Fusion Technology. This digital process uses a layer by layer material build-up approach using layers of powdered metal from 20 to 100 micron. This digital process can produce high precision metal parts in a very short time versus traditional tooling and manufacturing methods.
METAL AM MISCONCEPTIONS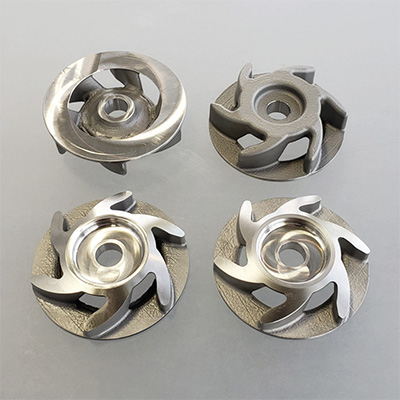 Let's clear the air on all misconceptions about part quality built by the DMLS process. On average part densities are 99.5% and DMLS parts have the same or very close to the same mechanical properties as bar stock. Most heat treat and stress relief cycles are the same. Parts can also be coated or plated just like other metal parts. Many AM builds come with both vertical and horizontal test bars. Material test plugs and loose material samples can be sent to approved labs for customer testing. All parts we produce also come with material certifications. High quality parts produced by the DMLS process are being used daily in critical mission applications in a broad range of demanding industries.
WHAT PARTS MAKE THE MOST SENSE FOR THE METAL AM PROCESS
Most of the DMLS machines on the market have a build chamber of 10"x10"x12" LXWXH. Powder to fill these machines is very expensive, on average it costs $30-$150 per pound. With thistechnology you can make any geometry that you would like. But you really need to take the time to look at the part and the part processing to see if it makes sense. Big and heavy parts are typically not good candidates for DMLS as they take too long to make and post process.
The following is a list of common part challenges that tend to make ideal candidates for DMLS production:
Material required – parts that are made from materials that traditionally take a long time to machine from solid billet; for example Inconel and Titanium alloys
Machining – parts with thin wall conditions that cannot be machined or casted
Complex geometries – such as lattice structures or internal features that cannot be made any other way
Small features – that take very small cutting tools to produce, tolerance dependent (+/- .005")
Near net shapes – machining of 'truly critical features'
Off angle holes – that cause an additional machining operation or 5 axis CNC Machine.
Parts with overhanging features – that require lots of support structure
Full design freedom - including parts with fillets and rounds on all surfaces (no sharp corners)
INDUSTRY EXAMPLES THAT HAVE ADOPTED THE METAL AM PROCESS
Aerospace Market
Turbine Blades, Air Foils and Stators
Fuel Nozzles & Manifolds
Aluminum Heat Sinks & Brackets
Medical Market
Filtration Systems & Vacuum Sealing Tooling
Stainless & Titanium Surgical Instruments
Stainless and Titanium Wire Jigs, Tooling and Fixtures
Titanium Implants that have controlled porosity for bone attachment
Heavy Duty Diesel
Fuel System Components
Brackets, Manifolds and Fittings to prove out investment casting designs
Test Stand Hardware
Automotive Market
Thin Wall Sheet Metal Prototypes
Conformal Cooled High Pressure Die Cast Inserts
Conformal Cooled Injection Molding Tools
Prototype Gear Blanks and other hardware
Oil & Gas
Deep Well Drilling Tools and combining multi-pieces into one complex assembly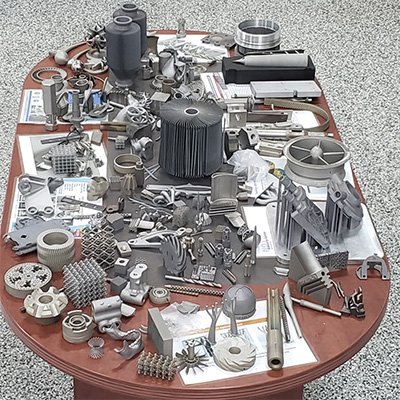 DESIGN FOR ADDITIVE MANUFACTURING
Traditional difficult part geometries can easily be made with the DMLS process. The question is whether it makes financial sense to produce it this way, as it does not make sense to print a part then grind and machine the entire part as post processing. In this scenario it usually makes more sense to machine the part from a solid billet. If speed is what you are looking for then the numbers may work. We like to get involved in the early stages to work with the designer to make geometry modifications for manufacturability. By adding chamfers and gussets to certain areas we can eliminate the need for support structure. The part price in DMLS is driven by build time and part volume.
METAL ADDITIVE PART PROCESSING
When processing a metal AM part it's important to review geometrical dimensioning and tolerancing. First we determine the features that can be held by the AM machine/process; surface roughness/finish and tolerancing are the critical issues. Next we look at the features that need to be machined and which surfaces will be attached to the build plate as those surfaces need to have material added to them for post process removal. We may have to account for heat treat, stress relief and HIP. Each one of those processes's can affect size in different ways. Finally, a review of any post process grinding and media blasting is important as they can also affect size.
DELIVERY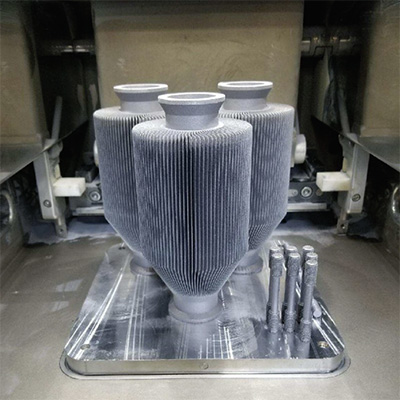 On average most parts are delivered within 1 to 2 weeks.
SUMMARY
Additive Manufacturing is here to stay. All large aerospace, medical and automotive companies are adopting this technology for quality and speed to market reasons. Machine work envelopes are getting larger and the development of multi-headed lasering equipment is decreasing build time making it more cost competitive. It's not a technology that will take over mass production anytime soon but it can definitely make a lot of sense for low volume, prototypes, support tooling and fixturing.